Reserve your spot today!
Be a part of the live audience as Mountain Stage records a fresh episode for NPR Music with host Kathy Mattea!
Presented by UC Santa Barbara Arts & Lectures at the Granada Theatre in Santa Barbara, CA.
Since 1983, Mountain Stage has been one of the most beloved programs in public radio history. Eclectic, authentic, and unpredictable, the show's varied guests have included iconic artists from John Prine and Townes Van Zandt to Wilco and Phish. Under the leadership of Grammy Award-winning country and bluegrass star Kathy Mattea since 2021, Mountain Stage continues to bring surefire energy and mountain music magic to parts known and unknown. Don't miss your chance to be part of this live recording with Mattea, Brett Dennen, Judith Owen, Raye Zaragoza, and more artists to be announced.
Tickets: $41 – $106
You can hear music and learn about each artist by clicking through to their websites: Brett Dennen, Judith Owen, Raye Zaragoza and more TBA.
Featured Artists
Brett Dennen
Judith Owen
Raye Zaragoza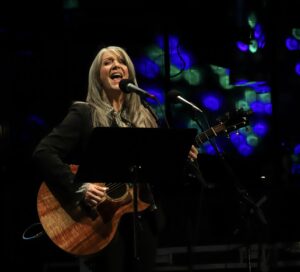 Host Kathy Mattea
More Artists TBA